Spunagain's MG ZT260 Pages
Spunagain's ZT260 pages are under construction.
This page is made up of my own experiences and cullings from the Xpower forums
---
Performance Upgrades

There are a number of performance upgrades for the ZT260 it really depends on the depth of your pockets. Here are a few:

---
Accufab 75mm Throttle Body
This is a very shiney bolt on upgrade developed in the USA for Mustangs which works very nicely on the ZT. I fitted mine myself in about 30 minutes. It allegedly adds about 14bhp but it makes a noticable difference with the engine revving freely and adding top end grunt - it really feels like it is worth useing up to 5500 rpm to extract all the power. You can order it from Dreadnought performance parts for about £300. It is a universally accepted performance accessory and many 260 owners have gone down this route and been very pleased.

---
Power shot air filter
I fitted this myself, it is a direct replacment for the standard air filter and it allegedly adds 4 hp but I noticed no difference at all.


---
Fast Road Cams
These can be expensive to buy and fit as the total package set you back nearly £1000 and reports from those who have fitted it is that it does not make £1000 of difference!

Cam kits are available form Dreadnought performance parts and SeanHyland Motorsport
Note: Most dealers cannot fit cams. Apparently MGR hired out special tools that were needed to remove the cams via company called Carpart, since MGR went bust they will only sell them to the dealers and at about £800 for the set it isn't justified for replacing one or 2 sets (yet). Dreadnought can!
Dreadnought charge about £600 for the cams without fitting.
One owner who has gone down the cam route was disappointed. "They were only fitted 3 weeks ago and I was expecting to be able to get in and feel a big difference in the seat of the pants. Saturday just gone I went down to Silverstone with the SV boys, to go on the WRC rolling road. This was the first time I'd had a chance to try it. I didn't actually notice any difference; I put it down to being a heavy car, not having all the bits added at the same time (throttle body/plenum, pulleys, filter, cams) etc. I've also got the x power zorst. At the R/R it managed a 276.5 Hp and 320lb, I was a little disappointed, (TonyC managed 269.2hp on a totally standard car). We came to the conclusion at the pub after, that I need to give it some more stick to run it in better (only just done 16K) and the fact the cams were probably timed as per the standard cams.
The supplying dealer fitted them were Lookers, Stockport, Cheshire. They had the car for 3 days from me dropping it off to picking it up. Probably took them a day and a half. The most noticeable difference the cams have made at the moment is the tone of the exhaust; it has changed and sounds better. The car is now lumpy at idle, kind of gives it the race car feel. I'm glad I had them done though as it should give a better result when tuned and it's a better base to further increase the power i.e. headers. "
"Each SHM 2 Valve camshaft is ground on an 8620 billet core, ensuring durable performance for many years. The profiles offered have been extensively tested, and offer significant performance increases when combined with other complimentary engine components. Some designs may require computer calibration changes for best performance and drivability. Ask your customer service representative for help selecting the most appropriate grind for your application.
Ford 4.6 SOHC Billet Camshafts
2750 Duration @ .050 218/218 Lift .550/.550 LSA 114. Good low end torque, improved mid range power, stock computer ok. PI head
Cost $549
2730 Street Performance, Mild race. Duration @ .050 230/230 Lift .500/.500 LSA 114. . 3.27-3.73 gears. Direct replacement for 92-98 SOHC. RPM range 1500-6000 with no valve train modifications.
Cost $549

---
Performance Exhausts
The MG Xpower exhausts. These stainless steel back boxes cost about 450 pounds for left and right exhausts + vat + fitting from dealers. Strangely exhausts alone have gone for £500+ on ebay!

Fitted! OEM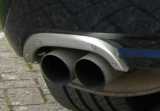 Many owners have found them too loud and have sold them on and re-fitted the old ones. They tend to be boomy on the motorway. However they definitely turn heads!
The 260s group on the Xpower forums are looking to develop an in between solution that provides a freer flowing system with a more volume of full throttle but civilised at cruising speed.
When I find time I would like to develop a switch-mode system using MG TF back box valving to switch between quiet and loud modes. So if you are chucking a TF or ZT exhaust in any condition let me know – I'll have it!

---
Under-drive Pulley Kits
Replacing the factory pulleys allegedly frees up 5-7 HP from your engine. The vendors claim that there are no concerns over cooling or charging. These kits have apparently been used for 3 years in warm climates like Florida, Texas and California with no side effects. But not with the 260's marginal aircon! I have had no first hand long term reports of anyone trying these yet.
$219 from Sean Hyland
They were also available from Dreadnought but no longer on their website.

---
Supercharger
There seems to be 3 main suppliers – Dreadnought and Sprintex and Roush
Their Kenne Bell based conversion costs £5995 and they would need the car for a week to install it. It's not a 10 minute job!
It is said to be what the 260 is crying out for. The conversion appears to be neat, effective and owners are very enthusiastic convertees. What drivers have said: "It's not as aggressive as the Roush engine that was going to be fitted to the ZT, but the spread of power is better at the top end, it's more European in its delivery. It's a total hoot to drive, I really enjoyed it and a XXXmph it was still pulling showing that the car is capable of great speed. It is also worth noting that the car handles the extra power extremely well. Yes, traction can be broken if you want it to, but for point and squirt overtaking prowess, nothing beats it. And the noise, well, take an X Wing fighter from Star Wars and imagine that at full chat = ZT260 with a blower on!"
Another owner is also pleased! "My car is excellent fun... but I know that it is a 260 with a power hike. I don't push the brakes beyond sensible limits. I know what the inevitable result will be. That suits the type of driving I do with the car. I've got access to other "hooligan" cars that are better suited to throwing around corners. Not that the ZT doesn't handle, but just that if you want every corner to be an opportunity for drifting there are better cars to do it in. The chassis handles the power fine, with no handling traits likely to catch you out any more than the standard car. The acceleration is fantastic. More 747 than Ferrari with an intoxicating noise to go with it. There are moments when it truly astonishes both yourself and all those around you. Oh and I have gone through a set of rear tyres in the last 5000 miles. This is a sign that the tyres are under-specced, but I like to keep the 225 size all round because I can rotate the tyres to even up the wear and they are cheap. My gearbox man has also told me that fifth is a bit on the weak side, so I tend to drop a gear and use fourth if I want significant acceleration at motorway speeds. I have every reason to believe it is the best option for the 2 valve by a long way. The under bonnet fit from the Dreadnought work is *perfect* which is a lot better than can be said for some of the other options. I would also regard it as a proven solution."
Sprintex have designed a Supercharger Installation for the MG ZT 260 V8, delivering a claimed 360 Bhp and 520 NM of torque. The Supercharger installation lime the others is nestled between the V and is covered by a discreet carbon fibre cover denoting its Supercharged status.
The installation of the Supercharger claims significant improvements in performance, 0-100 k/ph in 5.9 secs (traction limited) and 0-400m in 14 secs.
The Supercharger Kit claims to have been designed to suit the MG ZT 260 V8, in both the automatic and manual models.
They are in Australia and so the price is AUD $9,500 (supply only) plus GST and Installation Costs. They do have fitting agents in the UK
I do not know of anyone who has fitted this one yet.

Roush
These guys developed the original superchaged engine for the ZT385 and the SV. There are a few lurking about left over from the demise of MG. One might drop into a 260 but I suspect it would be easier to bolt an SC onto your existing engine. There is one factory build ZTT385 for sale at SMC Slough.

---
Nitrous!
Nitrous may be literally 'bolted on' with no major modifications at a fraction of the cost, say £1200- £1400 max for a twin 11lb bottle / twin solenoid / Progressive Controller system. Depending on use the short time period NOS is used should not cause any engine problems; the engine management etc does not need to be touched as 'wet' systems have fuel and NOS injected separately from the main injectors.
Downside is you would have limited use before a refill, typically £40 to £50 per 11lb bottle which would give you about 7 minutes of 250 BHP. Having said that you would be surprised how long it lasts if a 'Progressive' system is used, i.e. a percentage of NOS is injected per throttle position / accelerator position and differs per gear used. One user (OECosgrove) has used a system on a different car that delivers 100% only at full throttle for example, and only uses it 'when needed' and in competition.
---
ZT260 page
home

This web page is designed and maintained entirely by Spunagain. Please let me know if you have new information or anything here is demonstrably incorrect!
Thanks.

---
Spunagain <questions@spunagain.co.uk>